This year's courses
I will teach two courses in the Fall 2016 term and no courses in the Spring 2017 term.
Fall 2016

Phil. 33: Political Philosophy. This class features in-depth discussions of classic figures like Plato, Hobbes, Locke, Mill, Nozick, and Rawls. This will be different from past years in two ways. First, I have edited the readings to make them significantly easier to follow. Second, I added discussions of Hume on property, reparations for historical wrongs like slavery, and immigration and citizenship. Third, I swapped Plato out for some more contemporary readings (I needed to make room because the fall has two fewer days than the spring. Who knew?) Look at the Spring 2016 edition to see what it is like.
PPE 160: Freedom, Markets, and Well-being. This is the PPE senior seminar that Prof. Brown and I do together. We have the team back together again!
The pattern
I teach three courses every year:
Social and Political Philosophy (Phil 33)
Philosophy of Law (Phil 34)
Freedom, Markets, and Well-being (PPE 160 or PPE 190)
For my fourth course, I try to switch between (1) classes for first and second year students, such as Problems of Philosophy (Phil 1) or ID-1, and (2) classes for juniors and seniors, such as the expansively titled "Topics in Philosophy of Law, and Law and Society" (Phil 185b) or "Topics in Social and Political Philosophy" (Phil 185s). (The titles and descriptions are deliberately broad. That way we can put a variety of different topics under the same number without having to go to the curriculum committee for approval. Thus, Topics in Social and Political can be human rights or Hobbes, Topics in Law can be punishment, and so on.)
So you can get a pretty good sense of what I'm likely to do indefinitely into the future.
About Michael Green
I am a member of the Department of Philosophy and the program in Philosophy, Politics, and Economics at Pomona College. Before coming to Pomona, I taught at McGill, Stanford, and the University of Chicago.
My office is Pearsons 207. My email address and office phone number are available from the Pomona College directory: select Faculty/Staff and enter my name.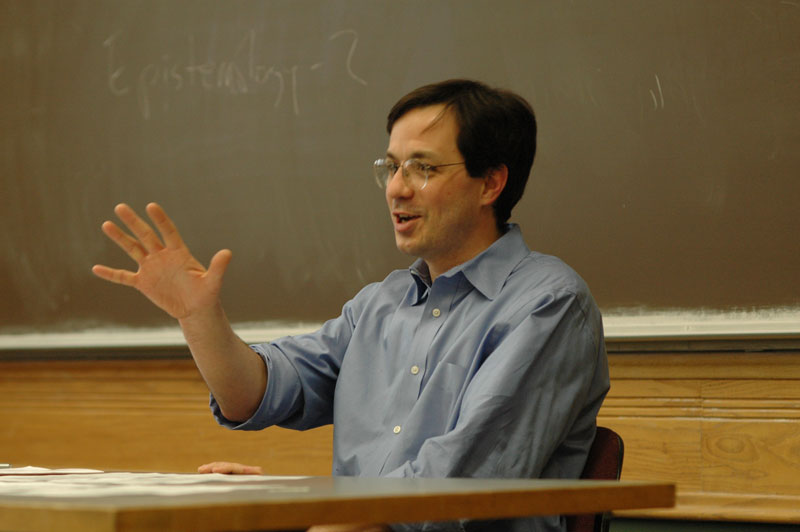 Gentle advice
Back up your computer to the network. In three easy steps!
Navigate the philosophy job market.